Aquacoach follows the ASA Learn to Swim Awards
At Aquacoach we follow a range of the Swim England – Learn to Swim schemes.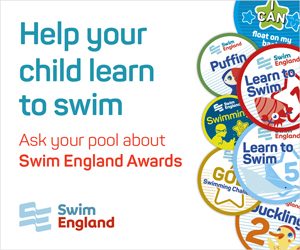 Children enjoy seeing their own progress, receiving certificates and badges which can be sewn onto a special towel! However, the children are not put under any pressure. Children all learn at different rates and the most important thing is for them to enjoy their lessons.
Here are some of the different elements of the Swim England swimming schemes.
Discovery Duckling Awards
The Discovery Ducklings swimming awards are perfect for babies, toddlers and pre-school age children who are learning to swim. With support from the teacher, the children gain confidence in the water moving through the four stages before moving onto the next set of awards.
Duckling Awards
The Ducklings Awards are made up of four levels, each with a badge and certificate. By the time the children have reached Duckling 4, they will be able to go underwater, jump in and swim for 10 metres unaided. On completion, children will be confident and independent in the water.
Rainbow Distance Awards
The Swim England Rainbow Distance Awards help children develop the stamina to swim longer distances whilst maintaining the correct stroke. The accompanying badges and certificates help to motivate the children as they progress.
Learn to Swim Stages 1 – 6 Framework
At Aquacoach we believe that learning to swim should be fun. Swim England Learn to Swim framework allows the children to learn a range of water-based skills which go beyond learning the four strokes of front crawl, backstroke, breaststroke and butterfly. These include:
Entry
Exits
Flotation and Balance
Rotation and Orientation
Streamlining
Aquatic Breathing
Travel and Coordination
Water Safety
Health and Fitness
Water Skills Awards
This scheme is made up of 6 Grades and complements the Swim England Learn to Swim framework. On completion of all the grades children are able to swim 75m in 2 minutes using three different strokes.
We also teach the Water Safety and Survival awards syllabus which gives the children survival knowledge, an awareness of the potential dangers around water and important life-saving information. Passing these awards will give parents peace of mind.
For competent swimmers who have completed most of the Learn to Swim Stages, there are the Bronze, Silver and Gold Swim England Swimming Challenge Awards.